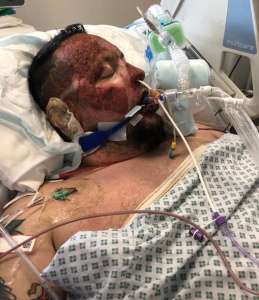 At age 35 on 22nd November 2018, I was in an explosion in my garage/converted workshop. The explosion was caused by a faulty wall-mounted electric radiator. I sustained full thickness burns to my hands and part of my face (nose and ears), and partial thickness burns to my face and body. I was intubated on site and airlifted to Southampton General Hospital where the amputation of my hands was discussed. However, luckily I was then taken to Salisbury Hospital ICU where my hands were debrided and ultimately, saved! My inhalation burns were so extreme that a Lung Lavage was required. I also experienced 2 collapsed lungs and pneumonia. I was intubated at Salisbury Hospital ICU for 2 weeks.
Waking from my induced coma was extremely disorientating and distressing. My girlfriend, family and friends had two weeks to come to terms with what had happened, yet I was experiencing it for the first time, which was a frightening influx of new information, sensations and experiences. It was somewhat akin to living in an alternate reality/dreamworld. I thought my hands had been amputated until one of the Burns Physios at Salisbury, Matt, removed my dressings to clean and perform physio. Due to the extreme doses of Propofol, Fentanyl and Morphine, I experienced rather frightening hallucinations during those first few weeks. For the first month in hospital, I had no use of my hands whatsoever as they were kept in bags with Flammazine. Towards the end of my time in ICU, I spent 2 weeks re-learning how to walk with the help of the Burns Physio team.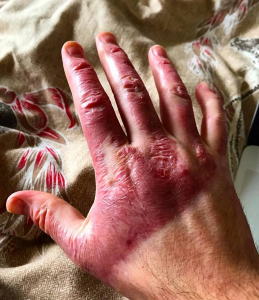 I was then moved to the Salisbury Odstock Burns Unit, where it became apparent that my breathing was not quite right. After some visits to the ENT unit which included cameras up the nose/down the throat, I was diagnosed with Bi-Lateral Vocal Cord Paralysis. This means that the nerves to the vocal cords and voice box were destroyed by the inhalation burns, meaning the vocal cords sit paralysed across the breathing hole. This, in turn means that when breathing in, they do not open to allow airflow and when speaking, they do not close to allow a clear voice, phonation and pitch. This results in me not being able to do much physically, as I cannot get the relative volume of oxygen in to cope with any kind of exertion – it is essentially living in oxygen debt, often with the feeling of suffocation. At first, this was an extremely distressing and frightening experience for me, but with the help of one of the top ENT surgeons in the country, I have had some fantastic support in both breathing and speaking management.
My surgeon has informed me that I am viable for a state-of-the-art surgical procedure which reinnervates new nerves taken from elsewhere into the body, into the voice box and vocal cords. However, there is risk there and a high failure rate, simply due to the complexity and sensitivity of the voice box structure, especially when damaged like mine. Due to the Covid-19 pandemic, I have not seen the ENT Consultant for a year, so have been managing my breathing as best I can, to see if it is something I can live with long-term, or not. Of course, I am at risk of a Tracheostomy should any kind of throat trauma occur at any point in my life, due to the reduced size of my breathing hole – which I believe is somewhere around 25% the size of normal. This means I have to be extremely careful.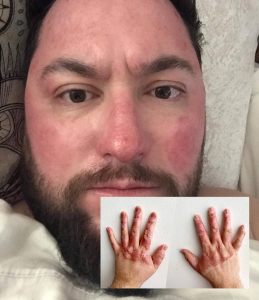 Recovery has been a long and winding road, beginning with wound management and strength building upon my return home, then moving onto day-to-day activities which were supplemented with extensive burns physio and burns laser treatment at the Salisbury Hospital Plastics Dept. The laser treatment I have received has been instrumental in bringing my hands back to a state where they are almost normal, aside from some nerve damage, scarring and tightness.
Alongside my physical injuries, I also experienced Post Traumatic Stress. Since my return home I have seen the burns Clinical Psychologist, who has been crucial to my mental recovery from the effects of the explosion. I have undergone Cognitive Behavioural Therapy as part of this treatment, which I have found hugely beneficial. I no longer experience flashbacks due to my Clinical Psychology treatment.
I am a musician and before my burns I was a signed singer-songwriter, having released 3 albums and played on BBC Radio 1, Radio 2, BBC6 Music along with slots at Glastonbury Festival, Bestival, Camp Bestival. I have also supported artists such as Ed Sheeran, Laura Marling, First Aid Kit, The Levellers and many more. I can no longer sing, which is something that I am still coming to terms with. However, due to the incredible treatment I have received on my hand burns, I can now play the guitar once again back to the level I was at before. In fact, as part of my burns physio recovery, I was advised to play guitar as much as possible as this is a great exercise in strength and dexterity. It was fine by me!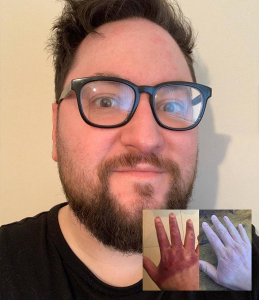 Since my burns occurred in 2018, I have been introduced to what is an incredibly supportive, welcoming and open burns community. As someone who knew nothing about burns prior to my accident, I now have so many friends in the burns community. I have received wonderful support from Polly at Dan's Fund for Burns, the Katie Piper Foundation and many more burns survivors. Since being able to use my hands again, it is my life goal to work in the burns community and help other burn survivors. I have never experienced something so frightening, so if I can give back to help new burns survivors, then it could mean their recovery and re-entry back into life may be easier.
I now volunteer as a burns peer supporter and it is an honour for me to provide support to burn survivors because I know that without it myself, I would not be where I am today – which is leading something close to what I would call a normal and happy life. I will never breathe freely or speak freely again, but with the help and support of my partner, family, friends and the burns community, I am able to be happy.